Our hearts are heavy with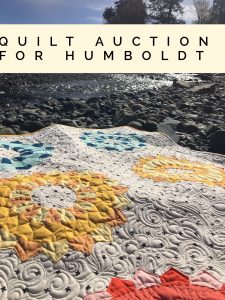 the great loss experienced last Friday, April 6, 2018 when 16 were killed in such a tragic accident. Naturally we want to help and reach out. I am a small town Alberta girl living on Vancouver Island with 5 very athletic and active children.
My eyes well up every time I think of the mom every time she will walk past her sons empty room, or to the first responders families coping with the after effects traumatic events cause, or the new fear of driving on the highways when there is any type of snow or ice.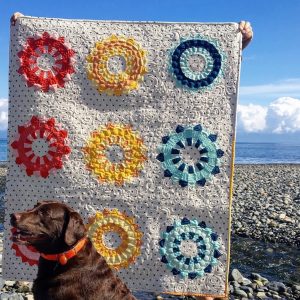 These are life changing events and if not properly supported by community and families can have devastating rippling effects. I need to do something. I can make quilts and send them, which I am in the process of doing. After speaking to the ladies at the quilt shop at Humboldt they have requested money raised to pay for batting, backings, thread and quilting for the much anticipated blocks that will come in.

I am fortunate to participate in RJR's What Shade Are You program where they allow creatives to select colours and any quilt design they desire to create a quilt, make it and showcase it on a specific date. I will be sharing mine next week. In the true sense of the word creative, I ordered the fabric and then deliberated on what to make. I had some ideas but nothing certain. One of my ideas was to create a smaller dresden into a bigger one. So I made 12 smaller ones to fit in the larger 12 and it just didn't work. So I made a 9 dresden with the left over RJR cross fabric and enjoyed the process. I thought I would like to donate the quilt but didn't know where. Two days after finishing the quilt the tragedy occurred and I knew exactly what I would do.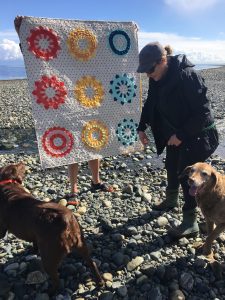 I am so touched by the generosity of those around me. Hockey is such a part of a Canadian identity. Small town rural life is so much a part of me. All of my great grandparents came west for a brighter future and literally built the foundation for those who came after.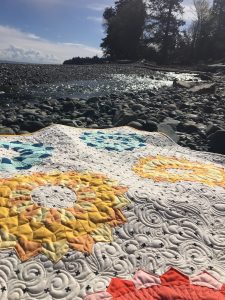 I am grateful that my talents can go towards raising funds to purchase the required backings and batting and thread for all the quilts that will be pouring in from all over the world I am sure. Quilters have hearts of gold.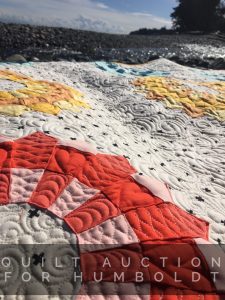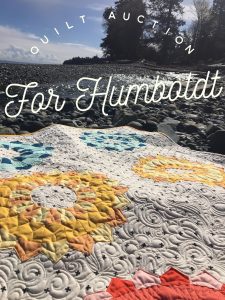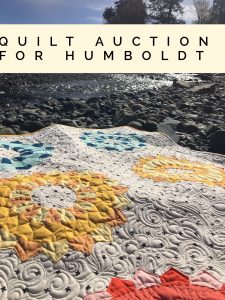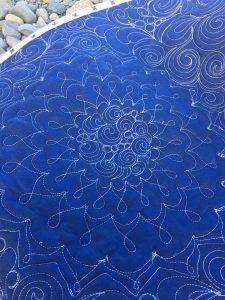 With great humility and love I thank you all for your kindness. If you don't have the funds to bid on the quilt the owner of Haus of Stitches in Humboldt would take donations. She also recommended that perhaps Stars ambulance would appreciate donations. Three of the victims were air lifted. She also recommended that the Prairie Patchwork Guild in Humboldt would probably appreciate donations of backings, batting and thread.
While I was at the beach, I collected 16 white shells and lined them up beside the quilt and pondered on the lives they lived and how they were so loved. The sorrow was overwhelming so I focused on the good and recommitted myself to being my best self every day.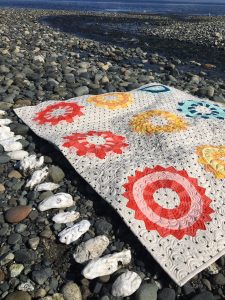 Thank you for all your love and support. Mother Theresa said, 'I alone cannot change the world, but I can cast a stone across the waters to create ripples" Thank you for helping me create ripples of love and kindness.